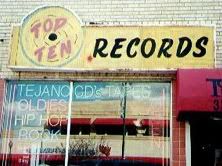 It's that time of year when people start cranking out Top 10 lists like fruitcake, so I thought I'd toss my cake in the ring and do one myself.
But since I usually come across new albums via used record stores and word of mouth, I decided my list would be not necessarily the best albums which came out in '10, but the best albums that showed up on my radar for the first time this year (hence "New to Me"). Some of them are actually new! (But most aren't.) Hopefully some of them will be new to you, too.
So now, in no particular order, here are ten albums which made my year:
David Smith Quintet – Anticipation (2010)
Action-packed second album from the NYC trumpeter, who I really admire for both his ideas and his sound, which I can only describe as unabashedly "trumpety." (They manage to do a version of "Satellite" in 7 and sound pretty relaxed.)
Sonny Rollins/Don Cherry Quartet – Stuttgart/Copenhagen/Tokyo/Paris 1963
Picked up these 4 discs in one fell swoop after realizing I'd never really heard them, and that was a crime. They vary in sound quality, amount of filler material from other shows, etc., but all in all a good snapshot of a strange and wonderful band in what must've been an amazing time to be alive and playing jazz. If I had to pick one, I'd say Copenhagen is most interesting–Oleo! (Hearing Sonny and Ornette on his birthday bootleg reminded me of these a little.)
Gary Peacock – Shift in the Wind (1980)
Picked this up in a record store in outer Portland called Vinyl Resting Place (!) and proceeded to let it gather dust for a couple of years before throwing it on this spring. Great tunes (some nice ones from pianist Art Lande), well-thought-out mix of changes and free blowing, and a good chance to hear Peacock shining in a non-Jarrett trio.
Donny McCaslin – Recommended Tools (2008)
Great tenor trio album from one of my recent favorite improvisers. Saw him play many of these tunes live at SFJAZZ in June, which was even better.
Keith Jarrett – Death and the Flower (1974)
I've obsessed my way through pretty much every phase of KJ's career over the years, but for whatever reason the American Quartet was the last one I got around to. But after a reminder last year from Do The Math I finally picked up the Impulse box, threw it on the iPod, and went for a long run in the Oakland hills while listening to Death and… from start to finish. (The 22-min title track can be tempting to skip. Don't.) By the time it was over I'd found God, as much as possible for a cynical atheist. (BTW, try listening to a bunch of American Quartet, then put on the first track of Standards, Vol. 1, and you get a little sense of what it must've felt like to "come home" to those tunes.)
Charlie Haden/Egberto Gismonti/Jan Garbarek – Folk Songs (1979)
I've heard this band described as too new-agey, but I think it's way too intense for that. (And Gismonti is a serious badass.) Magico, the follow-up, is great, too.
Arve Henriksen – Cartography (2010) & Chiaroscuro (2004)
Tuneful ambient collages from this Norwegian trumpeter and sound artist. He managed to find a totally new sound in those old tubes somehow, and I'm hooked.
Mathias Eick – The Door (2008)
A subtle pack of grooving, well crafted straight-8ths tunes and good playing all around. Felt a little stereotypically ECM-y at first listen, but this record really grew on me.
The Holly Martins – no. no. yes. no. (2010)
Superhappening voice/alto/guitar timebending swinging power trio. FYI: Lorin Benedict is the new standard for scat singing. (Disclosure: friends of mine.)
Kirk Knuffke – Amnesia Brown (2010)
Another new-to-me trumpeter with a great, personal sound and ideas out the wazoo. I learned about this set of free-infused miniatures from Doug Ramsay, who hasn't steered me wrong yet.
Honorable mentions go to: John McNeil & Bill McHenry's Chill Morn He Climb Jenny (brand new, but already getting in some serious listening on this one), every Steve Lacy album I own (I isolated all his solos and listened to the playlist on shuffle pretty much every day); and–why not–my own album Contextualizin', which came out in February. (I know, pretty shameless, but it really was the soundtrack of my year, and this may be the only Top 10 list it gets mentioned on.) UPDATE: I forgot to mention my friend Sunna Gunnlaugs' great album The Dream! Planning on listening to that more next year.
By the way, there are definitely albums which are getting a lot of love this year (Vijay Iyer, Mary Halvorson, The Ideal Bread, etc.) which I just didn't get around to checking out. (More suggestions? Throw 'em in the comments.) With any luck I'll get to them next year, and remain pleasantly behind the curve!