Archive for the 'Thoughts' Category
Date: 2013.11.19 | Category: Thoughts | Response: 1

Recently someone asked a question in Jack Walrath's excellent Facebook group along the lines of "What tune makes you sweat bullets every time someone calls it on a gig or at a session?" Many responders picked tunes like "Giant Steps," "Countdown," "Cherokee," etc., in other words thorny tunes with lots of intricate changes. I didn't have to think about my answer at all–firstly because tunes like those have gotten easier since I've put the work in (although the challenge then becomes how to play the tune instead of letting the tune play you–more about this here); but mainly because for at least ten years my unquestioned nemesis in improvised music has been The Slow Blues.

Yes, that's right, a regular old slow blues–the very first tune I ever improvised on, as a matter of fact. Why is it still hounding me? First, let's establish some context by going back in time for a little background vignette:

SCENE: Stereotypical "Jazz Education" rehearsal room, mid 1990s. Whiteboard with diminished scale pattern on it, acoustical foam on walls, etc. 3-4 young white American and European college JAZZ STUDENTS are "jamming" on a Bb blues because the teacher is late again. Their solos are a mix of unswinging bebop lines, self-conscious "out" pentatonic or chromatic patterns, and corny stereotypical blues licks. One AFRICAN-AMERICAN TENOR PLAYER sits in the corner, looking vaguely stoned (which he probably was), not playing. TEACHER, a grizzled older jazz musician, arrives, looking like he just woke up under a rock, listens for a minute or so, and stops the tune.

TEACHER: What are you guys playing?

STUDENT: Just a blues.

AFRICAN-AMERICAN TENOR PLAYER shakes his head.

TEACHER (to AfAm TENOR PLAYER): What?

AfAm TENOR PLAYER: They ain't playin' The Blues.

TEACHER (eyes closed meaningfully): This guy gets it.

Rest of STUDENTS go into a visible slump.

Yes, this was an actual scene from my past. (And no, I was not the hip African-American tenor player, if you hadn't already guessed.) This guy has been successfully living in my head since that day, lying low and waiting until I start soloing on a slow blues to jump back into my consciousness at the most inopportune time: "You ain't playin' The Blues."

I should mention that this guy was no great shakes as an improviser, either–he was all style and not much substance, at least as best I can remember 15 years later–but he turned into a symbol of my own inner critic. So let's unpack what exactly is going on that turned these 12 simple bars into a source of overthinking for me.

Date: 2012.11.09 | Category: Thoughts | Response: 0

Some of you may know that in addition to playing the trumpet, writing music, doing unnecessarily complicated illustrations for my CD, battling raccoons in my garden, and catching up on Japanese soap operas, I also sometimes waste time writing short internet humor pieces which may or may not provide minor amusement (and definitely do not provide even minor financial rewards).

Today I've got a new one up at McSweeney's (everyone's favorite way to spend 11 minutes procrastinating on the internet) called "I WILL Kick You Out of Bed for Eating Crackers":

Listen, Kate Upton, we've been together for a while now, and while you are undeniably extremely attractive, and I would love to spend countless nights gazing longingly at your barely clothed figure here in our softly lit boudoir, the fact is I am going to have to go against my every instinct and kick you out of this warm, inviting bed.

Yes, because of the crackers.

You can read the rest here.

And in case you're looking for more ways to make it to the weekend while doing as little work as possible, here are some other bits of mine they've previously kindly published:

Date: 2012.10.25 | Category: Thoughts | Response: 0

It's been a while since the last installment, so looks like it's ime for another edition of the series where I recommend albums which have recently jumped up on my radar–some of which may be new, some of which may be not-so-new, some of which I may be the last person on Earth to hear about (are you guys hip to this "Maybe Call Me" thing?). So here are four great records which are New to Me!

Fly — Year of the Snake (2012): This actually is a new one! I was lucky enough to see these guys (Mark Turner, Larry Grenadier, and Jeff Ballard, that is) a few years ago when they released their previous album, the great Sky & Country, and they're just getting better. The tunes especially are going new places–everybody's got multiple composing credits and a wide variety of tune types are represented, from the Mingus-y straightahead "Salt & Pepper" to the sound-painting of some of the miniatures that make up the five-part "Western Lands" set. I had a regular trumpet/bass/drums trio for a while in my 20s, and really enjoyed writing music for that format, since–assuming you don't want to just play tunes (which can be fine, too)–it forces you to do more with less, and makes a case for the whole "restriction as inspiration" idea. (See the Ravel below.) Counterpoint becomes especially important, and Fly makes great use of it on this record–see Grenadier's "Kingston." These guys make me want to start writing for that kind of small chord-instrument-free band again.

Date: 2012.10.04 | Category: Thoughts | Response: 3

Reading Ethan Iverson's long, detailed interview (does he do any other kind?) with saxophonist-composer-arranger-author Bill Kirchner got me thinking about the valuable things I got out of the arranging class I took with Kirchner, which in turn got me thinking about all the myriad lessons I've learned from many teachers/players/friends over the years, and BOOM! A new blog feature idea was born.

So I hereby inaugurate a new semi-regular gig in which I'll talk about some lessons I've learned from a variety of people–some of whom I studied with directly, some I shared the bandstand with, some I hassled for a few minutes in a club, and probably even some who died before I was born. Partly I want to do this to pay tribute to these people and give credit where it's due, but also I think it'll be a good way of thinking about my own development, how I got here (wherever "here" is), and maybe reminding myself of advice I may have forgotten, and which might be worth a second look.

So I'll go with Bill first since he indirectly gave me the idea.

Lesson #1: There Is Some Very Happening Music Out There You Don't Know About
It is shocking to me to realize, but there was a time I didn't know who Jimmy Giuffre was. He was just one of the musicians and writers whose records later became touchstones in my development which I was introduced to in Bill's class. I heard Denny Zeitlin, Johnny Mandel (Bill played us a version of "The Song is You" which felt like the musical equivalent of falling in love with a beautiful woman who then punches you in the brain), Bill Holman, Bill Russo, Stravinsky's Ebony Concerto, and many others for the first time, and I remember he really got us beyond "Wow, man" and into thinking about how they did what they did. Read the rest of this entry »

Date: 2012.05.24 | Category: Thoughts | Response: 19

Once again, the Jazz/BAM internet is abuzz–abuzz, I tell you!–with opinions on how the music can grow its audience and remain a culturally relevant art form in the 21st Century. Well, I'm happy to say they're all wrong! Musicians and fans, just follow these few simple steps, and before you know it, Jazz will be partying like it's 1959!

Provide iPods at every gig so audience members can listen to their own choice of music during the show

Bring contemporary audiences in by covering tunes by hot new pop bands like like N'SYNC, The BeeGees, and Scott Joplin

Have the band begin the set naked, and offer to put on one piece of clothing each time someone claps

Three words: ZOMBIE LOUIS ARMSTRONG

Take advantage of social media platforms by limiting your solos to 140 notes or less

Build a "Jazzyland" theme park in Orlando, featuring thrilling attractions like Sun Ra's ArKoaster, the GraviTrane, the Tilt-A-Wayne, Jazz Argument! (with Animatronic WyntonBot), Keith Jarrett's FLIP-OUT! and the Bitches Brew Album Cover House of Horrors, plus exclusive shopping at The Ahmad JaMall and a hot dog stand run by Anthony Braxton

Reinvigorate jazz by incorporating elements of rock, hiphop, Salsa, polka, Bluegrass, Tango, Death Metal, Tibetan throat-singing, New Wave, Death Bluegrass, Drum and Bass, Drum and Bass and Mariachi, Thrash Electro-Industrial Housegrass, anything with tubas, the "Dukes of Hazzard" Theme, jazz, and Paul Anka

Get every jazz group in the world to play nothing but "Misty" for the next year, over and over, just to cure people of wanting to hear that fucking song (Next year: "When the Saints")

Accrue thousands of dollars in debt getting a degree in jazz from an accredited educational institution–once people learn how qualified you are, they'll have no choice but to buy your CDs!

Book non-jazz acts to headline every major jazz festival in the U.S. for several years, until audiences forget what jazz is–just kidding, that would never happen!

Make the music more palatable to a wide audience by avoiding unpopular elements like improvisation, swing, acoustic instruments, "blue notes," syncopation, harmony, melody, and rhythm

Save yourself the time and effort of practicing by just running "Kind of Blue" through the house speakers while your band pretends to play

Start an island colony to raise a new jazz audience from childhood in isolation, exposing them solely to the highest quality of musical influences; watch them grow into passionate and knowledgeable listeners, only to see it all go to hell when a crate of Justin Bieber CDs washes up on shore

Stop playing all that noodly stuff–people hate that.

Date: 2012.01.24 | Category: Thoughts | Response: 0

Last year I inaugurated a feature where I talk about music which, while not necessarily hot off the presses, is still New to Me–since it's been a while since the last installment, here are a few albums which have recently been turning my crank:

Geri Allen — The Nurturer (1990) & Maroons (1992): I once got to go hear Geri Allen at the Village Vanguard after a friend who worked at an artist's credit union discovered money for her which she'd forgotten about, and going to her show seemed like the best way to get in touch. She was off my radar for a while before a friend loaned me an album last year, which led to me digging up more. These two are  both fine early 90s efforts, with really interesting tunes and her own deeply personal blowing–and of special interest to trumpeters, great contributions from sidefolks like Wallace Roney and underappreciated legend Marcus Belgrave. ("Number Four," an Allen/Belgrave duet on Maroons, is worth the price of admission itself.)

Derek Adlam — Masterpieces for Clavichord by Bach (2005); Christophe Rousset — Bach: Italian Concerto; Partita in B minor etc. (1992): Since stumbling on to Johnny Reinhard's "Microtonal Bach" show during WKCR's annual Bach Festival while I was in college, I've been hooked on recordings of my favorite composer made on instruments in historical, non-equal-tempered tunings–even though I love Bach on piano, once you've heard how colorful and interesting baroque modulations can be in nonequal tuning, hearing the same pieces on an equal-tempered instrument can be like going from technicolor to black & white. Rousset's rousing album features a strident harpsichord in the Werckmeister III tuning, and outstanding versions of several Bach staples, including one of my all-time favorites, the Chromatic Fantasia & Fugue in D minor (check it out here). Adlam's disc features the much more subtle clavichord (made for quiet performances in small rooms) in a tuning called "Young 2," and a program of lesser-known (to me) pieces. (Couldn't find a video but here's Adlam playing some William Byrd in nonequal tuning.) If you want to get a great intro to historical tuning and the kind of color effects I'm talking about, check out this page featuring the same baroque piece played in Meantone, Werckmeister and equal (modern) tunings.

Herbie Hancock/Wayne Shorter — 1+1 (1997): It's embarrassing, but I never got around to checking out this album until recently, when a friend put on the sublime "Meridianne/A Wood Sylph" at a listening party. (We had a great time imagining the Verve execs' reaction in the studio–"Uh, are you sure you guys don't feel like throwing in a version of 'All Blues' or something?") With these giants, you know it would've been incredible even if they'd phoned it in, which they unquestionably did not. An outstanding reminder of the towering peaks still remaining to be ascended in this music. On the off chance that I'm not the last person in the world to recommend this record, I strongly suggest you pick it up.

Date: 2011.12.02 | Category: Thoughts | Response: 69

By now you're aware that there was another jazz blogo-Twitter-Facebook-sphere conflagration this week (they seem to crop up every few months or so like drug-resistant bacteria)–this one in response to a post by accomplished trumpeter and opinionator Nicholas Payton (who is always a good read, whether you agree with him or not). The post that set it off, "Why Jazz Isn't Cool Anymore," is a collection of thoughts covering Payton's problems with "jazz" as a word and marketing concept and its place in the history of racism in the music, plus a varety of other stuff including silence and whether it's romantic to be poor (his take: no). It's all interesting and debatable, but that's not what prompted me to write today–my problem is the kinds of reactions these sorts of discussions tend to bring up from some white musicians and fans. (There's that voice in my head telling me to close the laptop and walk away. No? Shit, here we go.)

On the list of topics most white jazz musicians would rather not be talking about, I think issues of race in jazz fall right behind their parents' sex lives or when the biopsy results are due back. It's uncomfortable for all sorts of reasons, which is why most of us choose to avoid getting into it if at all possible. It tends to explode the happy illusion that the jazz scene is a harmonious colorblind family where musical achievement is the only metric that matters. If it is discussed, it's usually among friends in a non-public setting where good faith can be assumed and people can accept some basic facts as givens:

that jazz is a music that came out of the African-American community and is a deep part of that culture's historical identity;
that great respect is due to the Black masters who shaped it;
that those masters were on the receiving end of vicious racial animosity for much of the music's history;
that white musicians unfairly profited from discrimination against black musicians by audiences and the music industry;* but
that white musicians also played a role in the development of the music; and
that America isn't yet over these wounds, and people, especially musicians, ignore this to their own detriment.

But on the internet, in public, things are very different. Anybody with a Twitter or Facebook account can instantly jump into the fray with thoughts ranging from well-thought-out arguments to idiotic name-calling–so after a brief honeymoon (ten minutes? 15?) of respectful disagreement with Payton, sure enough, out of the woodwork came (mostly white) people calling him a racist, accusing him of calling them thieves, etc. This is par for the course in American discourse (see here) but disappointing, since I like to think jazz musicians are a little more attuned to how loaded these issues can be.

But as I said in one Facebook thread which I couldn't stop myself from getting sucked into (after it followed the standard devolution from reasoned debate to incoherent jazz Fight Club), it's unfortunately easy for white jazz players to fall into the trap of walking around in a haze of proactive defensiveness, ready to drop Bill Evans on anyone who brings up racism in the music's past or present.

But to those white players who feel themselves veering toward that defensiveness, I would say the following:

The fact is, you are occasionally going to run into people who think you probably shouldn't be playing this music, or think white people are generally bad for jazz. Some of them may be your friends. Some of them may be your heroes. Some of them may be German tourists who think jazz can only be played in sunglasses. Some of them may know much less about the music than you do. This is just a fact of life and a natural result of the history covered above.
This is indeed a drag. Trust me, I get it. It's a drag to spend your life learning to play a music, only to know there are people who think you'll never be authentic because of who your parents are. But:
Compared to what the Black architects of this music went through over the first century of its existence, this is a pretty minor price to pay. No one is throwing you in jail. No one is making you walk in the back door or use a separate water fountain. There is no vast population of white jazz musicians being deprived of work by inferior Black jazz musicians. Being called a thief is a hell of a lot nicer than some of the names I'm sure those pioneers heard on a regular basis.
In case you've forgotten, being white is an advantage in just about every other area of your life, short of the cost of sunscreen. (In case you need a refresher: see here.)
This doesn't mean you should never respond to a dumb argument or defend yourself, just try to have some perspective and be grateful that you live in a relatively peaceful country and can study music and (God forbid) occasionally get paid to play it.
But if it still bothers you and you really want to change peoples' minds, take a cue from that Bill Evans guy you're always mentioning and win them over by being a nice and respectful person and playing your ass off.

—

*To be clear, this usually wasn't the musician's fault! By all accounts Paul Whiteman was actually a pretty decent guy who cared about his musicians, and Chet Baker openly acknowledged that winning a trumpet poll while Clifford Brown was still alive was ridiculous (and I love Chet, but c'mon). But the fact that nobody calls Paul Whiteman the King of Jazz anymore, or thinks the ODJB was acutally "original" is a good sign that history is a better judge than short-term marketing hype.

—

… WHILE YOU'RE HERE, some other posts to check out:

Date: 2011.07.18 | Category: Thoughts | Response: 3

The always-interesting Ronan Guilfoye has a great anti-pop music screed up today over at his site, Mostly Music. The gist:

This music… this sticky treacly manufactured international pop goo, whose sticky effusions have polluted the entire planet, springs from no culture other than money. It represents only the international corporate business behemoth that has taken the name 'music' into its title, despite having no interest in the concept of what music really is. It is unprecedented in human musical history – a music without any culture. A music without any message. And ultimately a music without any true humanity.

Tell us what you really think, Ronan!

Seriously, though–although I have a great fondness for this kind of crotchetiness, and I don't like most of the music he's talking about either, I have three objections to this critique:

This stuff is immensely popular and important to millions of (mostly) young people and serves as the anthems of their generation the same way that the popular music of your generation or mine did for us. YES, it's shoved down their throats by multimedia conglomerates, but the fact is that people have access to a whole world of music, and a great plurality if not majority of them are choosing to listen to this, because it resonates with them. To deny the music's humanity is to deny theirs, I think. And I would say there are millions of fully human, vibrant, intelligent young people in the world who nonetheless have crappy taste in music. (If you disagree, read this guy's blog for a while. He writes incredibly intelligently about what does not, to my untrained ears, seem to be especially intelligent music. But that makes me think twice about writing it off!)
I'm pretty sure the major purveyors of music, art, and literature throughout history have pretty much never cared about quality as much as they have about capital (at least since the end of the patronage system). Singling out today's pablum for special condemnation smacks of end-times-ism.
In spite of the incredibly annoying production values of most of today's top 40, there are still plenty of catchy tunes out there being written by actual human beings. It makes me angry sometimes, since they're so annoying, but I defy you to not get something like this stuck in your head. (And it even has a repeating modulation! Suck it, Jerome Kern!)

All that said, I really do think Auto-tune is going to ruin peoples' ears for real singing, and I do think the globalization of pop is going to continue to weaken a lot of regional music (as globalization has in every other aspect of culture, as inexorable as that is).

Thinking about all this did make me think of my dad, however, who likes to respond to any overheard pop, hiphop, etc. by saying, "they've finally come up with music for people who don't like music." This from a guy who listens to Schoenberg!

Date: 2011.06.09 | Category: Thoughts | Response: 1

Ted Panken (who I used to listen to on WKCR all the time) has a great new blog, which has already featured some gems–among them, this classic interview with Kenny G, in which Mr. G advances the curious claim that Charlie Parker was nicknamed "Bird" because his reed squeaked. The jazz Twitterverse jumped on this with a vengeance, and has since been abuzz with hundreds of other surprising #kennygjazzfacts. Arcane jazz-nerdery meets humorous lists? I'm there!

My contributions (so far) to the fact-fiesta:

They called Louis Armstrong "Pops" because he founded the Boston Pops, and ate Corn Pops, and had so many children.
They called the album "Kind of Blue" because Miles was suffering from hypothermia.
"Birdland" was actually named after the movie "The Birds" and Harold Land.
They call it the saxophone because the first one was actually made out of a phone.
"Take The A Train" was supposed to be either "Take The Train" or "Take A Train," not both!
Few people know that "Songbird" was actually a reharmonization of "Ascension."
Who knew that jazz would grow from its beginnings in David Lee Roth's "Just a Gigolo" to become a worldwide phenomenon?
No family has done more for jazz than the Jones brothers–Elvin, Thad, Hank, Tom, James Earl, and Barnaby.
Coltrane called his tune "Giant Steps" in honor of Wilt Chamberlain's feet.
Chick Webb was an inspiration to every chick with with webbed feet who dreamed of playing jazz.
Few people know that Herbie Hancock got his nickname because he Goes Bananas.
Jazz evolved in the late 1800s when rustic field hollers began to incorporate synth bass, DX-7s, and QuadraVerb.
WC Handy was such a big sports fan that he named his most famous composition after his favorite hockey team.
The word "jazz" was a common American slang term meaning "as exciting as basketball in Utah.
I used to think Charlie Parker was great, until I found out he was just reading all those solos out of the Omnibook.
Jelly Roll Morton changed his name because "Croissant Morton" sounded too fancy.
Coltrane took such long solos because he had lockjaw, which is how he got the nickname Eddie "Lockjaw" Coltrane.
King Oliver's nickname came from his favorite movie, "Oliver!"
Joe Henderson wrote "Inner Urge" after waiting in an especially long line for the mens' room.
Everyone knows Kenny G invented jazz, but few remember Wynton Marsalis invented classical music.

More of my questionable attempts at internet humor can be found here.

UPDATE: Some of my favorites from other folks:

Is that the "Jazz Masters Cemetery" up ahead? Good–pull-over. I gotta pee. (@AtmosTrio)
Tina Brooks is a huge influence on me, both as a saxophone player and as someone who constantly gets mistaken for a woman. (@keithflentge)
Trumpeter Booker Little was not only a librarian but a dwarf as well. His real name remains a mystery. (@peterhum)

And I'm grateful to WBGO for giving a shout out to this list! (I'd be even more grateful if they'd give my CD a spin.)*

*No really, why have I had more luck getting attention on the web by being funny than by playing jazz? Is the universe trying to tell me something?

Date: 2011.05.16 | Category: Thoughts | Response: 1

Last winter, in lieu of a "Best of" year-end list, I wrote a "New to Me" Top 10–the idea being that these days we're all introduced to music through a wide variety of sources including radio, blogs, YouTube, live shows, word of mouth, dudes shouting on street corners, etc., and albums which jump up on my radar these days are less likely to be "new releases" as such. "New to Me" means exactly that–an album may have been around for years or decades, but I'm sharing it because it's new to me. I also promised to make this a regular series, which I've been less than diligent about. Until now!

Here are a few artists and albums which have lately been getting a lot of play around my house, car, ears, subconscious. (Two of them are even literally new!)

Ambrose Akinmusire – "When the Heart Emerges Glistening" (2011), "Prelude (to Cora)" (2008): Ambrose grew up around here and has been known to frequent the same jam sessions I go to when he's in town, so it's just bad luck I haven't heard him live yet–but his recent media firestorm is well-deserved. I'd been looking forward to checking out "When the Heart" since his Blue Note deal was announced, and was even more interested after reading some interviews. A few things he said actually blew my mind a little–for example: "I can sound like the most articulate trumpet player… But at the other side, I want to be able to sound like a beginning trumpet player. I want to be able to sound like I can't play. I'm thinking of that spectrum." For a jazz musician, this is kind of a shocking statement–it shouldn't be, since that whole unpolished, raw quality has been part of the music since its earliest days–but I think players devote so much (necessary) time and energy to becoming masters of technique (playing the "right notes," having a clean sound and execution, etc.) that they don't often give themselves permission to be messy and raw (and play some clams if necessary). I recently wrote that I really enjoyed David Smith's playing due to the unapologetic "trumpety-ness" of it, and Ambrose really takes this ball and runs with it. Obviously he's not the first player to combine that fondness for the messier side of the horn with solid chops (I think Dizzy, Don Cherry, Lester Bowie, Dave Douglas, and early Wynton are probably all in his artistic genealogy somewhere–he might like my hero Shake Keane too), but the adventurous unpredictability of his ideas is what really makes it stand out for me. I really enjoyed "Heart," which is pretty evenly happening (although the production sometimes gets a little weird, like when overenthusiastic use of panning gives the impression Ambrose is flying around the studio on a wire)–so I also checked out "Cora," which I think I might like even better, since it comes across as having even less studio-polish (despite a fair amount of synths) and the fearless blowing comes to the fore.

Clare Fischer – "First Time Out" (1962), "Surging Ahead" (1963): Fischer first cropped up on my radar in college, when my arranging teacher Mike Mossman touted his big band charts. But I never really checked out his piano playing until recently, when I found a $5 LP of "First Time Out" after doing a gig at Bird & Beckett's and was inspired to dig deeper. So I managed to track down a used copy of "Mosaic Select: The Pacific Jazz Trios," which includes the complete tracks from "First Time," "Surging," and some unreleased odds and ends from Fischer's early 60s trio featuring the young Gary Peacock, plus other great material from West Coast pianists Russ Freeman, Richard Twardzick, and Jimmy Rowles. Fischer comes across on these albums as a really interesting improviser, tons of chops (his octave lines alone should win over the bopheads), melodicism, with an arranger's ear for harmony and plenty of daring. Highlights include "Free Too Long," a brisk free-blowing tune (over steady time) which is an interesting comparison to Peacock's (slightly) later work with Paul Bley, or Keith Jarrett's early trio albums; a burning version of "Lennie's Pennies" (Fischer was obviously working his way through Tristano's language and finds interesting, personal things to extrapolate from it); plus straightahead smokers like "Without a Song" and intricate originals like "Strayhorn," heard below:
Now Available!
Ian Carey Quintet+1:
Roads & Codes
(2013)
Listen/Buy:
CDBaby
●
Amazon
●
iTunes
●
emusic
●
Google Play
●
Download Art/Liner Notes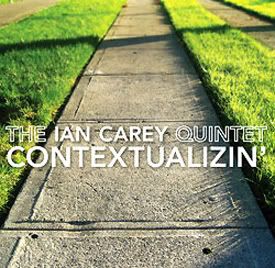 Ian Carey Quintet:
Contextualizin'
(2010)
CDBaby
●
Amazon
●
iTunes
●
lala
●
LastFM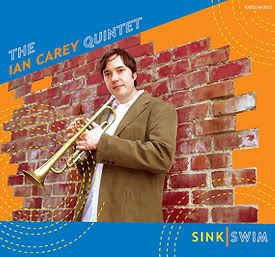 Ian Carey Quintet:
Sink/Swim
(2006)
CDBaby
●
Amazon
Upcoming Events
Friday, February 21, 2014
CD Release Show:
Ian Carey & Ben Stolorow: Duocracy
The Jazzschool, Berkeley


Tuesday, February 25
CD Street Date:
Ian Carey & Ben Stolorow: Duocracy


Friday, March 7
Ian Carey & Ben Stolorow
Old St. Hilary's, Tiburon


Top Posts
Links
The Jazz Web
Archives