Archive for February, 2010
Date: 2010.02.21 | Category: Press | Response: 0

Marc Myers' Jazzwax is one of the great online jazz resources to pop up over the past few years, featuring eye-opening interviews with a wide variety of jazz personalities, from living legends to under-appreciated folks who nevertheless have interesting stories to tell. So it's immensely gratifying to me that Marc chose Contextualizin' as a "Discovery of the Week":

I dig Ian Carey. He's a trumpeter with a clean, clear sound who understands that there are listeners at the other end of recordings. On his new album, you hear Ian's tender sound on the horn and his passion for harmony. Deep down, Ian's a romantic traditionalist, and his reverence for velvet simplicity and heart-touching tones is evident. When the music on this album hits your ear, you want to hear more. It's a strange sensation. All of the songs on the CD except one (Just Friends) were composed by Ian, and all clearly were carefully thought through to maximize warmth and gentle urgency. Fortunately, Ian's quintet is of the same mind… I can't stop playing this CD.

It's also great to hear that Marc will be starting a new book on jazz history from the 40s to the 70s–can't wait to check it out.

UPDATE 2/27: A nice brief review from Stanford University's KZSU Radio:

Carey rocks on trumpet and flugelhorn, displaying a crisp technique and warm musicality. All (except for #5) are original compositions, and they showcase his sharp style and the tightness of his band, all of whom get a chance to shine through ample solos.

Contextualizin' is available on CDBaby, iTunes, LaLa, and you can download a free track from the album at All About Jazz.

Date: 2010.02.16 | Category: Updates | Response: 0

Friends and Listeners,

Well, it's been a long and winding road since the Quintet headed into Bay Records for 11 hours and 13 bagels' worth of recording last May, but our new CD, Contextualizin', is finally available for sale and download, and should be hitting the airwaves at a jazz radio station near you.

There are two options for purchasing online: CDBaby, where both actual copies of the CD (yes, people still buy those!) and MP3 downloads are available; and the iTunes Store.

Please pick up a copy or four, and if you enjoy what you hear, you can leave a review at either CDBaby or iTunes. (You can even leave one if you don't like it!)

Also, if you're in the Bay Area, you can support local record stores by picking up the CD at Groove Yard (Oakland), Rasputin (San Francisco, Berkeley, San Lorenzo, or Mountain View), Amoeba Records (Berkeley), or The Jazzschool Store.

UPDATE 2/17: All About Jazz is featuring the album's title track as its free download of the day! Hop to it!

GIG UPDATE: Don't forget our Bay Area CD Release show is scheduled next month for Wednesday, March 10 at the beautiful Coda in San Francisco.

And in the meantime, I'll also be joined this Wednesday, Feb. 17 in an evening of standards and jazz classics by pianist Michael Coleman (of Beep) and bassist Noah Shencker at Sundance Kitchen restaurant, steps from Japantown and Fillmore Street in the Kabuki Cinemas building. Come on down!

Date: 2010.02.04 | Category: Gigs | Response: 0

Hi Friends & Listeners:

I'm excited to announce that we've scheduled the official CD release show next month for the Ian Carey Quintet's new album on Kabocha Records, Contextualizin'. The show will be hosted by Coda Jazz Supper Club, a great new venue in San Francisco's inner Mission district. The details:

WHAT: Contextualizin' CD Release Show
WHO: The Ian Carey Quintet, featuring Ian Carey, trumpet & flugelhorn; Adam Shulman, Fender Rhodes piano; Evan Francis, saxophone & flute; Fred Randolph, bass; and Jon Arkin, drums (+ special guests!)
WHERE: Coda, 1710 Mission Street, SF
WHEN: Wednesday, March 10, 7-9:30pm
HOW MUCH: $5

I'd love to get as many folks out to hear us as possible, so if you can only make it to one show of mine this year, this should be the one.

The album will make its radio debut and be available online and at select stores on 2/16 (UPDATE: now available!) and of course copies will be available at the show.

Hope to see you there!

UPDATE: Contextualizin' has its first review, from Midwest Record:

Carey has a solid jazz education and foundation in that he was lucky enough to have a slew of your fave jazzbos as teachers along the course of his musical education. Getting his inspiration from the source, he plays with a real feel and understanding of what it's all about. A trumpeter that knows how to give the rest of his ensemble some, he's one of those cats you don't really know that can load the deck with originals and not scare you away. Certainly a welcoming release, he shows he has everything it takes to go the distance and delight us all the way… this is clearly the real deal.
Now Available!
Ian Carey & Ben Stolorow:
Duocracy
(2014)
Listen/Buy:
CDBaby
●
Amazon
●
iTunes
●
emusic
●
Google Play
Ian Carey Quintet+1:
Roads & Codes
(2013)
Listen/Buy:
CDBaby
●
Amazon
●
iTunes
●
emusic
●
Google Play
●
Download Art/Liner Notes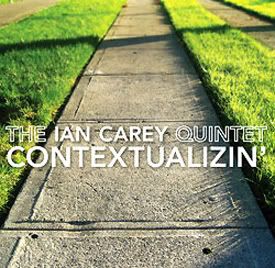 Ian Carey Quintet:
Contextualizin'
(2010)
CDBaby
●
Amazon
●
iTunes
●
lala
●
LastFM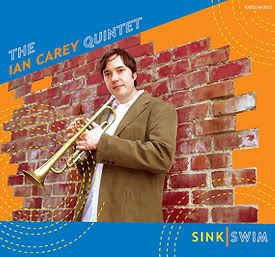 Ian Carey Quintet:
Sink/Swim
(2006)
CDBaby
●
Amazon
Upcoming Events
Tuesday, May 13
Circus Bella: 2014 Circus in the Parks Fundraiser
w/ Circus Bella All-Star Band
Brick & Mortar Music Hall, San Francisco


Friday, May 23
Ian Carey Quintet+1 &
Nathan Clevenger Group:
New Music for Jazz Sextets
The Sound Room, Oakland


Thursday, June 19
Circus Bella All-Star Band
Amnesia, San Francisco


Friday, September 20
Ian Carey Quintet+1
California Jazz Conservatory, Berkeley


Friday, November 14
Ian Carey Quintet+1
The Hillside Club, Berkeley


Top Posts
Links
The Jazz Web
Archives