Archive for June, 2006
Date: 2006.06.29 | Category: Press | Response: 0

Hi everyone–I wanted to let you know about a radio interview I'll be doing tomorrow afternoon on KCSM, which is America's only 24-hour commercial-free jazz station. Here are the details:

What: Ian Carey interview with Chris Cortez
Where: KCSM 91.1 FM (outside the Bay Area, listen online here.)
When: Tomorrow, Friday, June 30, at 1pm (Pacific)
On-Air Phone: (650) 574-9136

We'll be playing some cuts from our album, and talking about the Quintet's upcoming show at the Octavia Lounge in S.F. on July 8th (that's a week from Saturday). As they used to say, "Tune In, Turn On, and Jazz Out." (OK, that was horrible.) So listen if you can, and feel free to call the studio and critique my public-speaking skillz. (There will be plenty to critique.)

Also: Evan Francis, our saxophonist, will be performing with his group Spaceheater this Saturday 7/1 at Amnesia (853 Valencia @ 19th St., SF) from 10:30pm-12:45am. Check it out.

Date: 2006.06.16 | Category: Audio, Gigs, Updates | Response: 0

Hi listeners–I hope everyone is enjoying his or her summers. In lieu of lemonade and hot dogs, I have one gig announcement, one travelogue, and one absolutely-free mp3 download for you.

First, I'd like to announce a performance next month which I'm really excited about: on Saturday, July 8, from 8 to midnight, the Quintet will be playing at the Octavia Lounge on Market Street. This will be our first public performance since April, and will feature some new original music as well as selections from our CD (and most likely a few standards and classics). The regular line-up (myself on trumpet, Evan Francis on alto & flute, Adam Shulman on piano–last chance to hear Adam before he heads to France for the rest of the summer!–Fred Randolph on bass, and Jon Arkin on drums) will be there. There's a $10 cover, but it's a small price to pay to hear the band in a beautiful club (with a beautiful piano). So save the date, since I know Saturdays in the summertime book up fast.

Second, Linda and I just got back from a whirlwind tour of Kansas City, where we were able to make it to several jazz-related events. See below for the full story.

Finally, as a bonus for remembering who we are after these past few gig-free months, here's a complete tune from our final House of Shields gig in April. Enjoy!

Con Alma (Gillespie) Dizzy's classic Cubano chorale. You might subtitle this rendition "Requiem for a Steady Gig." I especially like interplay between Evan and I toward the end of the tune.

Date: 2006.06.16 | Category: Photos, Thoughts | Response: 0

I Am the Giant Head of Charlie Parker! Photo by Alan Watt.

"Oakland? That hellhole!"

This was the reaction of the bass player after I answered his middle-of-the-tune question of where I was from, as we slugged through "Confirmation" at 3:20 a.m. But let me back up a moment.

My girlfriend and I were in Kansas City last week for a friend's wedding, but since we were in the town which produced so many jazz giants–Charlie Parker (of the giant green head above), Jay McShann, Count Basie, and many others–I decided to throw in a pilrgimage to what's believed to be the oldest jam session in the country: the Mutual Musician's Foundation, which has been hosting late-night sessions since 1930, give or take a few years for renovations. The session was listed as beginning at 11 p.m., but when we arrived after midnight the man behind the bar said, "music starts at one." So we sat in the arctic air-conditioned chill, surrounded by framed photos of Kansas City legends past, and waited.

A trio began to play a little after 2 a.m.–unfortunately I didn't get anyone's names, but they were very good, playing mostly standards. I was wondering if they played a set before opening up the session, but there didn't seem to be anyone else waiting to sit in, and after listening for five or six tunes and hearing some ruckus coming through the ceiling, I finally asked someone, and was told that the session was upstairs, and downstairs was for performances. But it worked out well, since I would've missed out on hearing the good music downstairs if I'd gone straight up to the session.

Downstairs at the M.M.F. Photo by Alan Watt.

We made our way upstairs, and found three musicians playing in a much larger (and less freezing) room, surrounded by oblivious drinkers. I played three or four tunes with the group, which featured a great pianist named Oscar Williams II (who according to a Google search studied with Bobby Watson at UMKC), the aforementioned bassist with the anti-Oakland bent, and a pair of drummers including a nice guy who told us he'd toured with the Ojays. (Linda said he approached her while I was playing and politely said, "Excuse me miss, are you waitin' on someone?") Unfortunately we had to split around 3:30 a.m., though a lot of drinkers were starting to show up as the bars closed. I don't know whether more musicians joined them, although I've since heard that the session really only picks up after 3–next time, I guess.

We also made it to the American Jazz Museum and Negro Leagues Baseball Museum, which are in opposite sides of the same building, but could not be further apart in terms of content and execution.

The baseball museum had a ton of material, but seemed to think it needed everything to be visible at once. The result was overwhelming, and not in a good way. Overall, I'd recommend it, however, since the exhibits managed to present many of the compelling stories of the Negro Leauges days (even if in a somewhat cluttered way). Unfortunately they didn't have the throwback-N.Y. Cubans hat that I wanted to buy, but I suppose I have enough hats as it is.

The jazz museum was another story, unfortunately. The space was set up well, and it's connected to what looks like a nice jazz club called the Blue Room (where a saxophonist was just finishing up a little improvisation demonstration on "When the Saints"–too bad he wasn't around when that tune was requested at the House of Shields)–but the exhibit was pretty short on substance. Other than Charlie Parker's plastic alto (as used for the famous Massey Hall concert where Mingus had to redub his bass lines) and a few contracts, there wasn't much to look at: lots of record sleeves which could've been seen at a record store, some photocopied gig contracts, and a late-model trumpet with the label "A Trumpet and Mouthpiece. Louis Armstrong was a famous trumpeter" or something like that. They also had a listening library with a couple of hundred in-print CDs–nice, I suppose, but probably no better than the average university or library collection. In fact, the most interesting thing I saw was a container of "Louis Armstrong Lip Salve," which Linda suggested would probably sell pretty well today. Hell, I'd buy some (although God knows what people rubbed on their chops in the thirties).

Although the museum was a little bit sad, it was luckily only a few blocks from the world-famous Arthur Bryant's, where we were able to smother our disappointment with ribs, "burnt end" sandwiches, and cole slaw the color of lime jello. (We also made it to Gates Barbecue but preferred Bryant's in pretty much every way). Other highlights included catching an entertaining K.C. T-Bones baseball game–the T-Bones' mascot is a bull named "Sizzle," who is, as far as I know, the only mascot in professional sports whose name celebrates his own death. (We also made multiple trips to Sheridan's Frozen Custard, which is so damn good that I can't believe it hasn't yet made its way to the Bay Area.)

Anyway, it was a nice short visit, and I'd like to go back and meet some more of the local musicians, since it seems like there's still a pretty vibrant scene for such an otherwise economically-depressed town. We kept thinking that any moment thousands of Bay Area refugees were going to come over the hill hungry for lower rent, backyards, and custard. It could happen any day, so you better snatch up one of those $50,000 houses fast.
Now Available!
Ian Carey & Ben Stolorow:
Duocracy
(2014)
Listen/Buy:
CDBaby
●
Amazon
●
iTunes
●
emusic
●
Google Play
Ian Carey Quintet+1:
Roads & Codes
(2013)
Listen/Buy:
CDBaby
●
Amazon
●
iTunes
●
emusic
●
Google Play
●
Download Art/Liner Notes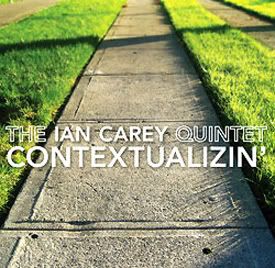 Ian Carey Quintet:
Contextualizin'
(2010)
CDBaby
●
Amazon
●
iTunes
●
lala
●
LastFM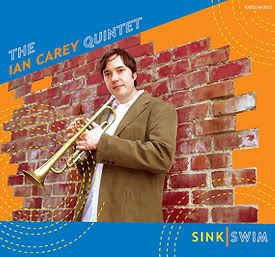 Ian Carey Quintet:
Sink/Swim
(2006)
CDBaby
●
Amazon
Upcoming Events
Tuesday, May 13
Circus Bella: 2014 Circus in the Parks Fundraiser
w/ Circus Bella All-Star Band
Brick & Mortar Music Hall, San Francisco


Friday, May 23
Ian Carey Quintet+1 &
Nathan Clevenger Group:
New Music for Jazz Sextets
The Sound Room, Oakland


Thursday, June 19
Circus Bella All-Star Band
Amnesia, San Francisco


Friday, September 20
Ian Carey Quintet+1
California Jazz Conservatory, Berkeley


Friday, November 14
Ian Carey Quintet+1
The Hillside Club, Berkeley


Top Posts
Links
The Jazz Web
Archives