Date: 2014.03.18 | Category: Audio, Gigs | Response: 0

First of all, thanks to everyone who made it out to my TAKOYAKI 3 show last week at Birdland Jazzista–we had a great time, the venue was fun and the incomparable Lorin Benedict even joined us for a couple of tunes.

Here's a track from Bryan Bowman's surprisingly clear recording (given how tricky the acoustics were)–it's my newish arrangement of the standard "All or Nothing at All":

Ian Carey's TAKOYAKI 3: All or Nothing at All
(w/ Adam Shulman, organ; Ian Carey, trumpet; Bryan Bowman, drums)

Also, Takoyaki 3 has another show coming up later this month–we'll be returning to Rose Pistola in North Beach on Sunday, March 30. The group will once again feature Adam Shulman on organ, Jon Arkin on drums, and myself on trumpet & flugelhorn, and we'll be playing original music from Roads & Codes, (& possibly even Duocracy!) as well as select standards and underappreciated classics by jazz composers like Herbie Nichols, Ornette Coleman, and Lennie Tristano.

WHAT: Ian Carey's Takoyaki 3
WHERE: Rose Pistola, 532 Columbus Ave., San Francisco
WHEN: Sunday, March 30, 8-10:30pm
HOW MUCH: No cover!

Hope to see you there!

Date: 2014.03.10 | Category: Gigs | Response: 1

Hi folks, I'm happy to announce that this Friday, March 14, TAKOYAKI 3 (the streamlined, street-food-style version of my Quintet+1) will be playing in Berkeley at the Birdland Jazzista Social Club. BJSC is a labor of love from Michael Parayno, which features live music and barbecue for just a $10 donation (B.Y.O.B.). We'll be playing music from Roads & Codes and Contextualizin' (and maybe even one or two from Duocracy!), plus some unusual standards and classics by the likes of Thelonious Monk, Herbie Nichols, and Neil Young. Here are the details:

What: TAKOYAKI 3
Who: Adam Shulman, organ; Ian Carey, trumpet; Bryan Bowman, drums
When: Friday, March 13, 7-10pm
Where: Birdland Jazzista Social Club, 1731 Sacramento Street, Berkeley
How Much: $10 donation (includes barbecue), B.Y.O.B

Hope to see you there!

Date: 2014.03.09 | Category: Press, Video | Response: 0

Thanks very much to everyone who came out to any of our three CD release shows for Duocracy! Ben and I had a great time and were really pleased with the turnout and audience response. We hope to have more shows lined up soon, but in the meantime, here are some new reviews for the CD, plus some video from our Jazzschool (now California Jazz Conservatory!) show. (Also, don't forget my trio TAKOYAKI 3 is playing Friday, March 14, in Berkeley!)

First, the reviews–I'm really pleased that the CD was selected for a review by Down Beat, which is still the magazine of record for the jazz scene after 80-some years. Here's what they had to say:

Both busy members of the Bay Area jazz community, 30-somethings Stolorow and Carey pair up here for a duo outing largely focused on tunes dating back a couple of generations before they were born. The tone is set by the warmth of opener "Little White Lies," accelerated as "Cherokee" finds rapid-fire lines erupting from Carey's trumpet, and settles back as Stolorow takes a stride-inflected spin on Monk's "Four in One." It's a lively trip down a straightahead path… obviously deriving a refreshing joy from the familiar sights.

We also picked up a nice review from Music Charts Magazine:

Inventive and pretty, the music on Duocracy (recorded in 2013) is reminiscent of that created by Ruby Braff and Dick Hyman on several albums, including Play Nice Tunes (1994), though Braff usually performed on cornet while Ian Carey plays trumpet. Pianist Ben Stolorow and Carey mostly favor tunes from what is often called the Great American Songbook… Jazz writers who decry musicians' continued interest in such music should listen to Stolorow and Carey's fresh treatment of standards. Ranging chronologically from the Gershwins' "How Long Has This Been Going On" and Rodgers and Hart's "You Took Advantage of Me" (both 1928) to Henry Mancini's "Two for the Road" (1967), seven of the ten selections are well known. The tempos range from sprightly to deliberate. The briskest selection, "Cherokee" begins with a brief fanfare, as if to announce that something special is coming. Indeed, the trumpet-piano interplay is impressive, as it is throughout this CD. The contrast between "Cherokee" and the next tune, Gordon Jenkins's "Goodbye," the longest and least hurried piece, is extreme; pairing these pieces reveals the musicians' emotional range, from playfulness to introspection. … Hardly radical, the trumpeter and pianist are content to investigate the nuances of mostly established compositions, ones that some commentators consider effete. These tunes have endured because of their attractiveness and richness, qualities that appeal to instrumentalists and singers. Stolorow and Carey's treatment of them is uniquely theirs. They play nice tunes nicely.

And here's one from The Jazz Page:

The pared down pairing of trumpeter Ian Carey and pianist Ben Stolorow on their new effort Duocracy is a simple pleasure. It's not often that we get hear the interplay of the trumpet and piano alone together, and the talents of these two gentleman certainly elevates the caliber of the effort. They primarily cover a nice selection of standards by Rodgers and Hart, Henry Mancini, Thelonious Monk, George and Ira Gerswhin and Walter Donaldson among others. The duo of Carey and Stolorow makes this more than a fascinating concept, instead it's a fantastic recording.

As promised, here are two videos from our Jazzschool show, each featuring tunes which can also be found on the album–the first is Monk's "Four In One":

)

And here's Kern's chestnut "All the Things You Are…"

)

Date: 2014.02.27 | Category: Audio, Gigs, Press | Response: 0

Duocracy has only been out a few days (pick up a copy here!), but we're already seeing some nice reviews coming in, which is really gratifying. Here are some of the first batch!

From a thoughtful review from Stephen Graham on the great site marlbank (check out the site for two versions which inspired our rendition of "Goodbye"):

More traditionally minded on the surface at least than Roads and Codes, last year's Ian Carey Quintet + 1 outing, Duocracy opens with 'Little White Lies,' the Walter Donaldson song from 1930 that Paul McCartney has mentioned was a childhood favourite of John Lennon's. Trumpeter Carey, who's in his late thirties and is from New York state, teams here with NYC-born pianist Ben Stolorow a few years his junior who debuted in 2008 with I'll Be Over Here and whose input gives the album its deceptively early jazz feel. Carey has width and expressive resource in his approach, Stolorow too, and while Roads and Codes found Carey more in Dave Douglas-land here the trumpet stylings are far more mainstream, for instance the sound of Ruby Braff springs to mind a bit, and I suppose Stolorow could be compared to the late Dave McKenna in that his style borders on stride but never quite goes the full furlong as that would be just too retro. … Ultimately whatever the way in to the song, and the same applies for the album as a whole, while Stolorow and Carey play their own particular blend of goodbye, jazz fans may well prefer a firm hello to this appealing duo. (3 1/2 stars)

From the website Bop-n-Jazz:

Face it, a duo format is almost as "naked" as a performer can get so any apprehensions from the artists are more than understandable … yet there is unique chemistry that allows Carey and pianist Ben Stolorow to form a dynamic duo of sorts that slays the more pop oriented tunes from the classic days of jazz. Ben moves well away from the more traditional role of accompanist to achieve that "duocracy" of equal lyrical footing… There is an understated eloquence that takes hold throughout the release. Melody is back, changes are done with finesse and not a self-indulgent pretentiousness that may find one artist attempting to out perform the other. While the tunes are familiar and some bordering on eclectic, the original composition "Comin' Along" is an abstract showstopper formed around the Benny Golson standard "Along Came Betty." Rodgers and Hart's "You Took Advantage of Me" is the perfect vehicle for the harmonic gifts of pianist Stolorow. The Mancini tune " Two For The Road" is a master class for trumpet players that are looking to work on a more expressive tone, Carey simply nails it. (5 stars)

From Bruce Collier in the independent weekly The Beachcomber:

San Francisco jazzmen Carey (trumpet) and Stolorow (piano) did some gigging together last year in the Bay Area and decided to make it legit, the result being Duocracy. The album offers 10 tracks, including American Songbook standards and showpieces like "Cherokee." Carey's tone and approach are in the hard-bop style, somewhere between Lee Morgan and Clifford Brown in their bouncier moods. Stolorow skillfully backs him up, and there's a meeting of the minds on every song. When two fine players are having fun, it's good to listen in.

Always interesting to read which influences different listeners hear in one's playing! From Chris Spector in the Midwest Record:

After years of striving and making albums everyone raves about, this duo that has worked a lot together but never recorded together decided to take a tip from us and go after hours. Just the two of them smoking it up hotel piano bar style on a set card of warhorses carries the day quite nicely and you can tell they enjoy recording with the pressure off. In fact, these Bay area staples sound like they were kicking it out in the bar at this swank hotel on the rehabbed Berkeley waterfront with the sun going down in the background and the glasses clinking. First class throughout, loaded with the joy of playing for the fun of it. Infectious–in a good way!

And finally from Lee Hildebrand in our own East Bay Express:

The duo of Richmond trumpeter Ian Carey and Albany pianist Ben Stolorow is the most adventurous and exciting trumpet-pianist pairing since cornetist Ruby Braff and pianist-organist Dick Hyman played together a quarter century ago. But whereas Braff and Hyman's music was rooted in the pre-bop mainstream, these two East Bay musicians draw stylistically on a somewhat later era. They have a terrific new CD titled Duocracy on which their approach to melody, harmony, and rhythm suggests Thelonious Monk as they playfully explore "Cherokee," "Little White Lies," "You Took Advantage of Me," "All the Things You Are," and other popular standards, plus Gigi Gryce's "Social Call," Monk's "Four in One," and a tune of their own.

Meanwhile, I was a guest on KCSM's great Desert Island Jazz show last week, and had a great time talking about some of my all-time favorite music with host Alisa Clancy and producer Michael Burman. My playlist can be found here–it was incredibly challenging to winnow my list down to 8 tracks, but I feel good about who made the final cut. I also recommend taking some time to check out their full list of past guests and picks (who range from local heroes to international legends), which is fascinating. You can listen to my episode here:

Finally, don't forget that Ben & I have one more CD release show next Friday (March 7)–our North Bay version–at Old St. Hilary's in Tiburon. If you weren't able to make it to the Jazzschool (uh, make that California Jazz Conservatory!), please consider heading to beautiful Marin County next week to hear us!

Date: 2014.02.25 | Category: Updates | Response: 0

Hi folks, I'm happy to announce that as of today, Duocracy, my new album with pianist Ben Stolorow on Kabocha Records, is available for purchase (and should be on a radio station near you)!

Physical CDs can be picked up at CDBaby, and digital downloads are available at CDBaby (in high-quality mp3 and FLAC formats), Amazon, Google Play, iTunes, and eMusic. (The album is not available on Spotify, since we're not interested in being digital sharecroppers and getting $.000001 per play.)

Please pick up a copy or ten! And if you enjoy it, please consider adding a review–they really do help!

Coming soon: Video from our really enjoyable CD release show at the Jazzschool last week! And don't forget our North Bay CD release show is March 7 in Tiburon.

Date: 2014.01.15 | Category: Gigs, Thoughts, Updates | Response: 1

Happy New Year! (You can thank me later for not saying "jazzy.") Lots going on, so here goes:

Here Comes Duocracy!
Duocracy, my soon-to-be-released duo album with my good friend pianist Ben Stolorow, is being pressed as we speak! (You can read a lot more about the album here: Ian Carey, Ben Stolorow, and Duocracy.) Ben and I are currently gearing up for our two CD release shows:

If you're not going to be able to make either of those, we're also playing a private preview show in Richmond on the afternoon of January 20 (MLK Day)–email me (ian [AT] iancareyjazz.com) if you're interested in attending.

Winter Circus
Later this month, I'm happy to be involved in a rare off-season performance with the great Circus Bella, featuring outstanding original music by accordionist/keyboardist/guitarist/composer/"Nice Guy" Rob Reich, with the Circus Bella All-Star Band (with Rob, Greg Stephens on trombone, Ralph Carney on a potpurri of woodwinds & sundries, Michael Pinkham on drums, & me on trumpet). We'll be doing two shows on Saturday, January 26 at the Jewish Community Center in San Francisco. Last chance to see us before summertime!

New to Me: Arranger Edition
You may remember I have a periodic series of posts about standout albums which, while not necessarily new to the world, are new to me. As I'm about to get to work on a new, extended composition for my Quintet+1 (funded by a generous grant from the San Francisco Friends of Chamber Music's Musical Grant Program—you should apply too!), which will be premiered this fall, I've been spending a lot of time seeking out new-to-me recordings by great arrangers and composers in order to help get my creative wheels turning. Here are a few:

Date: 2013.12.05 | Category: Gigs, Press, Updates | Response: 0

Hi folks, it's been a while, so here's some recent news: I've been very happy to see Roads & Codes getting some love in year-end lists, including a mention in Downbeat's Best of 2013 Issue (alongside some heavy hitters!–although I wish they'd highlighted my album cover instead of that cornball Chick Corea-in-shining-armor painting).

Meanwhile, Andrew Gilbert of NPR's California Report named Roads & Codes on his list The Golden State of Jazz: The Best California Jazz CDs of 2013, and included some of my artwork.

The album also got a really nice mention in James Hale's Best Jazz Recordings of 2013 list (Hale also reviewed the CD for Downbeat, so I'm very glad it ended up in front of him!):

Bay Area trumpeter Ian Carey was the discovery of the year for me. On the inventively conceived Roads and Codes, he made great use of his highly skilled band of improvisers by writing to their strengths—a lesson gleaned from his mentor Maria Schneider. The program—an arty mix of pieces by Neil Young, Igor Stravinsky, Charles Ives and his own harmonically pleasing compositions—covers a lot of ground, and does it all well.

Ken Frankling included "The Thread," one of my tunes from the record, on his list of "the 10 best new songs from CDs released in 2013" on his blog Jazz Notes.

R&C also made the Top 50 list of Scott Albin of Jazztimes, and the honorable mention list for Ted Gioia's 100 Best Albums of 2013 (any genre!).

I'm especially glad to see the record showing up in these lists since it came out in February, so if people still remember it, it must have made quite an impression. I give much credit to the awesome musicians–Fred Randolph, Kasey Knudsen, Adam Shulman, Evan Francis, & Jon Arkin–who made that music with me.

But no resting on laurels, because I'm happy to announce that my new album, Duocracy, will be released in February. The album is an intimate duo session with my amigo the great pianist Ben Stolorow, featuring a selection of some of our favorite classic American Popular Songbook chestnuts, from the well-known ("All the Things…," "Cherokee") to the rare ("Two for the Road," "Little White Lies"). We have two CD release performances scheduled so far: the first in the East Bay, at The Jazzschool in Berkeley on February 21; the second in the North Bay, at Old St. Hilary's in Tiburon on March 7. The CD will hit the airwaves on February 25. Stay tuned!

Finally, from my other other career, a little thing I wrote with Darci Ratliff is up at the great literary & humor site McSweeney's today: Things Not to Bring to a Gunfight.

Coming soon: part two of my rambling Blues, Authenticity, and the Hopefully Not-So-Abstract Truth. Happy Holidays!

Date: 2013.11.19 | Category: Thoughts | Response: 1

Recently someone asked a question in Jack Walrath's excellent Facebook group along the lines of "What tune makes you sweat bullets every time someone calls it on a gig or at a session?" Many responders picked tunes like "Giant Steps," "Countdown," "Cherokee," etc., in other words thorny tunes with lots of intricate changes. I didn't have to think about my answer at all–firstly because tunes like those have gotten easier since I've put the work in (although the challenge then becomes how to play the tune instead of letting the tune play you–more about this here); but mainly because for at least ten years my unquestioned nemesis in improvised music has been The Slow Blues.

Yes, that's right, a regular old slow blues–the very first tune I ever improvised on, as a matter of fact. Why is it still hounding me? First, let's establish some context by going back in time for a little background vignette:

SCENE: Stereotypical "Jazz Education" rehearsal room, mid 1990s. Whiteboard with diminished scale pattern on it, acoustical foam on walls, etc. 3-4 young white American and European college JAZZ STUDENTS are "jamming" on a Bb blues because the teacher is late again. Their solos are a mix of unswinging bebop lines, self-conscious "out" pentatonic or chromatic patterns, and corny stereotypical blues licks. One AFRICAN-AMERICAN TENOR PLAYER sits in the corner, looking vaguely stoned (which he probably was), not playing. TEACHER, a grizzled older jazz musician, arrives, looking like he just woke up under a rock, listens for a minute or so, and stops the tune.

TEACHER: What are you guys playing?

STUDENT: Just a blues.

AFRICAN-AMERICAN TENOR PLAYER shakes his head.

TEACHER (to AfAm TENOR PLAYER): What?

AfAm TENOR PLAYER: They ain't playin' The Blues.

TEACHER (eyes closed meaningfully): This guy gets it.

Rest of STUDENTS go into a visible slump.

Yes, this was an actual scene from my past. (And no, I was not the hip African-American tenor player, if you hadn't already guessed.) This guy has been successfully living in my head since that day, lying low and waiting until I start soloing on a slow blues to jump back into my consciousness at the most inopportune time: "You ain't playin' The Blues."

I should mention that this guy was no great shakes as an improviser, either–he was all style and not much substance, at least as best I can remember 15 years later–but he turned into a symbol of my own inner critic. So let's unpack what exactly is going on that turned these 12 simple bars into a source of overthinking for me.

Date: 2013.07.17 | Category: Audio, Gigs, Updates | Response: 0

Hi folks, long time no etc. It's been a busy musical summer so far for me, with shows by Takoyaki 3 (at Yoshi's Lounge), Circus Bella (all over the bay), and even my shortest gig ever: a 3-minute obligatto for a groom-to-bride dedication of "All the Things You Are."

Gig news: This Friday (7/19), Takoyaki 3 (Adam Shulman on organ, Jon Arkin on drums, & myself on trumpet) will be playing at Rose Pistola in North Beach from 9-11:30p. No cover! Then Sunday (7/21) at noon, Circus Bella (you can hear some live audio of the great original soundtrack here) comes to Oakland's Dimond Park. Also free!

Also, I'm pleased to announce the next appearance for my Quintet+1, which will be Friday, September 13 at a secret venue in the East Bay. If you're on my email list, you'll get all the info beforehand; if not, why not sign up? (It's easy-on, easy-off, I swear.)

New Review: Roads & Codes has been out for a while, but some nice reviews are still trickling in–this week the multi-talented instrumentalist and educator Michael Smolens named the album his "Must Have CD Pick" of the month, with this very kind and thoughtful review:

Ian Carey is a direct artist. Honest, informed, inventive. The pieces never scream "Look at me!", but rather, "Come with me." Unlike many jazz recordings, the length of each piece feels beautifully and organically proportioned, whether they are nearly 12 minutes or just over two – they never plead for airplay with artificial brevity, or feel indulgent with endless solos. Carey incorporates many influences, from the lush worlds of Kenny Wheeler and Maria Schneider, the kickin' sounds of Joe Henderson and John Coltrane, to adaptations of classical 20th-century composers Igor Stravinsky and Charles Ives, to a Neil Young film score. Yet his sound and compositional approach is always very personal. This sextet of three horns and piano/bass/drums actually feels more like a seven or eight piece band because of how much motion he puts into the horn writing, each horn sharing in the melodic and accompanying roles. Carey's group has at once a very unified sound (remarkably, recorded in just one day), yet each member has a distinct voice as a soloist, always commenting on the piece at hand. Most affecting, though, is his visual art for the project. Carey directs his masterful illustrations to address the concerns that face most jazz artists in this country receive, from bewildering comments by critics, to the public's lack of understanding of jazz, to the select jazz audience's need for reassuring tribute albums. And he does so without the slightest hint of resentment. In fact, it is his child-like honesty in these artistic liner notes that is most breathtaking. (His comments on each of his tunes are informative, as well). Without a doubt, this is an artist you need to hear.

New Album News: In a few weeks, the great pianist Ben Stolorow and I will be mixing the duo project we recorded last month in Oakland. The as-yet-untitled album features 12 intimate tunes from the familiar to the rarely-heard, and we're hoping to release it this fall. Stay tuned!

Date: 2013.05.23 | Category: Gigs, Press, Updates | Response: 0

Hi folks, I have a bunch of interesting stuff to throw at you at once. First, I'm doing two shows next week with two different bands, both guaranteed to be interesting!

Next Thursday, May 30, Takoyaki 3 (the streamlined, street-food-style version of my Quintet+1) will be returning to the lounge at Yoshi's in San Francisco as part of their Local Talent Series.  We'll be doing underplayed jazz classics, originals, and even a standard or two!

WHAT: Ian Carey's Takoyaki 3
WHO: Ian Carey, trumpet; Adam Shulman, organ; Jon Arkin, drums
WHEN: Thursday, May 30, 6:30-9:30pm
WHERE: Yoshi's Lounge, San Francisco
HOW MUCH: Free!

A few days later, the Quintet+1 will be making its first appearance since our CD release show, at the intimate San Francisco house concert venue Chez Hanny.  We'll be performing music from Roads & Codes ("★★★★½ – a highly skilled band of improvisers, harmonically pleasing compositions… it all works" –Downbeat), including compositions by me, Stravinsky, Charles Ives, and Neil Young, as well as new arrangements of music from previous albums and the premiere of a brand new original piece. This will also be the debut with the band of the great Bay Area woodwind wizard Sheldon Brown. Seating is limited, so best reserve early!

WHAT: Ian Carey Quintet+1
WHO: Ian Carey, trumpet; Adam Shulman, piano; Jon Arkin, drums; Kasey Knudsen, alto saxophone; Sheldon Brown, tenor saxophone & flute; Fred Randolph, bass
WHEN: Sunday, June 2, 4pm
WHERE: Chez Hanny, San Francisco
HOW MUCH: $20 suggested donation (see link above for ticketing/reservation info)

In other news, reviews for Roads & Codes are still trickling in, including this very poetic one from Jazz Weekly:

Ian Carey leads a small band in which he plays trumpet, flugelhorn and handles most of the writing with a lithe as cirrus cloud team … The melding of the three horns, especially when Francis is on the flute, create a lovely graciousness  of sound that feels like a breeze teasing linen drapes, as on the mellifluous "Wheels." A pastel haze floats above the plain on "Rain Tune" while Neil Young's "Dead Man' features Carey's lonely and gasping trumpet.  Some firm and forte bop is displayed on the driving "Count Up" which has some pungent stick work by Arking, while Charles Ives' "West London" is delivered with a porcelain fragility. Nice and fresh music here that sparkles like morning dew on citrus trees.

Mellifluous indeed! It has been very interesting to see the wide varieties of effects the record has had on people.

Finally, I'm happy to announce that the great local organization San Francisco Friends of Chamber Music has chosen me as one of the fortunate beneficiaries of their 2013 Musical Grant Program. I'll be writing a new multi-part "Suite for Quintet+1," to be premiered at the Jazzschool in Berkeley in fall 2014. Time to get crackin'!
Now Available!
Ian Carey & Ben Stolorow:
Duocracy
(2014)
Listen/Buy:
CDBaby
●
Amazon
●
iTunes
●
emusic
●
Google Play
Ian Carey Quintet+1:
Roads & Codes
(2013)
Listen/Buy:
CDBaby
●
Amazon
●
iTunes
●
emusic
●
Google Play
●
Download Art/Liner Notes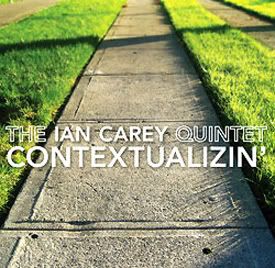 Ian Carey Quintet:
Contextualizin'
(2010)
CDBaby
●
Amazon
●
iTunes
●
lala
●
LastFM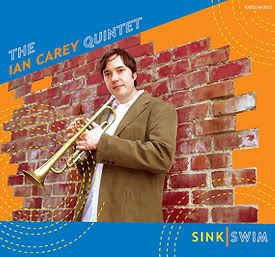 Ian Carey Quintet:
Sink/Swim
(2006)
CDBaby
●
Amazon
Upcoming Events
Friday, March 14, 7-10p
Ian Carey's Takoyaki 3
Birdland Jazzista, Berkeley


Sunday, March 30
Ian Carey's Takoyaki 3
(w/ Adam Shulman & Bryan Bowman)
Rose Pistola, San Francisco


Friday, May 23
Ian Carey Quintet+1 &
Nathan Clevenger Group:
New Music for Jazz Sextets
The Sound Room, Oakland


Top Posts
Links
The Jazz Web
Archives